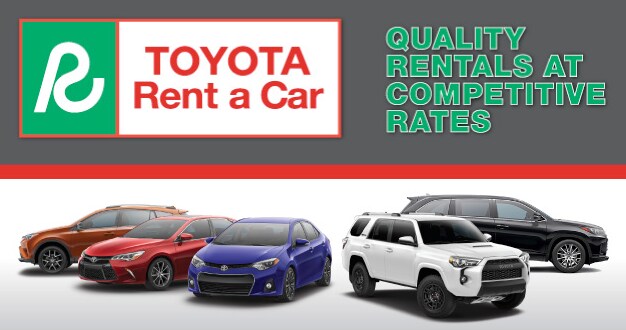 (802) 447-3321 ext. 4341
Whether you want to impress clients on a business trip, need a truck for a quick project, or are traveling for a vacation and need a bigger vehicle for everyone and their gear, we at Carbone Toyota of Bennington have your back!
Our dealership is proud to be a Toyota Rent A Car location. Now you don't have to visit the local car rental service, pay for a vehicle that's been driven poorly by so many people, and worry wondering about the last time it's been serviced. Instead, you can rent one of our quality vehicles that provide the following:
Excellent style
Up-to-date technology
Peace of mind thanks to Toyota Certification and regular maintenance by our knowledgeable technicians
Our rental program is also useful if you're starting to shop for your next vehicle. With the ability to do a 24-hour or multi-day test drive instead of taking our suggested loop 15-minute loop, you can drive your regular commute, get out on the highway, and see if the vehicle really meets your lifestyle needs. If you end up loving it, and aren't set on having a new Toyota, you can purchase the rental and get excellent savings.
Guidelines for renting:
Must be over 21
Must have a valid driver license, insurance, and credit card
Mileage is capped to 250 miles/day. Overages are $.20/mile
Since we serve customers from Bennington, VT, as well as Troy, NY and Pittsfield, Williamstown, and North Adams, MA, we want to remind renters that travel is not restricted to Vermont - cross state lines all you want!
Costs for renting:
Rates vary depending on what vehicle you choose and the length of the rental
You can pay an additional $10/day to get unlimited mileage
Carbone Toyota of Bennington Rental Car Hours:
Monday - Friday: 8:00am - 5:00pm
Closed Saturday and Sunday
For more information on our Toyota Rent A Car program, you can call us at (802) 447-3321 ext. 4341 or fill out our online contact form. We're excited to provide a better way to rent a vehicle (and possibly buy one), and we look forward to working with you.